Air raid shelter built by family in Peterborough garden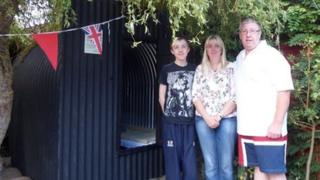 A family in Cambridgeshire have built a World War II replica air raid shelter in their garden - to play dominoes and drink tea in.
The Rands family, who live in Peterborough, have fitted the steel shelter with items from the time including a gas mask and tin hat.
Deborah Rands said: "We go to museums and see these shelters, so we thought we'll put one in our own garden.
"It's a bit more interesting than a shed."
The shelter is made from steel panels, bought and curved from a shop in Suffolk, and measures about 9ft by 5ft.
It cost less than £200 and took about two weeks to put up.
'Authentic look'
"It's above ground," said Mrs Rands, who lives with her husband Mark and son Robert.
"We didn't put it in the ground because they do flood and we didn't want to ruin what we've put in there."
The family painted the metal black and placed sandbags around the outside to make it look like the Anderson shelters they had seen in museums.
Mrs Rands said: "We've got a bed in there - and a chamber pot under the bed.
"We've got a cabinet with a clock, a candle, an old radio, old games, cards, anything they may have wanted to use when they were in there for the evening.
"We're still on the lookout for things to put in there just to give it that authentic look."
Mrs Rands says the family spend evenings in the shelter, playing dominoes and having cups of tea.
"It's quite atmospheric," she said. "I understand for some people they have memories of the war and shelters, but I think it helps keep the memories alive of these people who did all this."
The family are not planning to open the shelter for public viewings.
Although they have tried to create an authentic replica of a 1940s air raid shelter, they do not think it would cope with the bombing seen in World War II.
"If it was buried as it should be, with earth on top, it would probably be fine," said Mrs Rands.
"But as we have it, you wouldn't stand much chance."