Campaigners call for closure of animal research kennels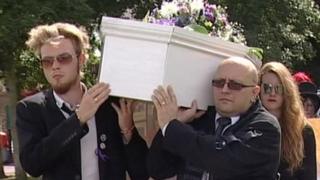 About 200 people joined a mock funeral procession through Cambridge in protest against kennels used to breed dogs for animal research.
The Save the Harlan Beagles campaign wants to close the Harlan Interfauna kennels at Wyton near Huntington.
Campaigner Jo Court said the testing was "cruel, humiliating, degrading and wrong".
Harlan Interfauna denied the accusation and said life-saving treatments could not be developed without the research.
'Tests failing'
A spokesperson for the kennels, which are part of Harlan Laboratories, said it would look to reduce the number of animals used in research and, where possible, look to use alternatives.
On Saturday, a flower-laded coffin was carried from Parker's Piece as a "mark of respect" to the dogs.
The group also says the animal research fails to predict human responses to medicine.
Dr Victoria Martindale, from the group, said: "The evidence is out there for everyone to see in black and white, that these methods of testing new drugs are failing human health.
"As a result of that too many human lives are being put at risk, as well as their human health."