Bassingbourn Army Training Regiment's last ceremony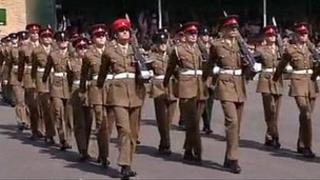 A Cambridgeshire Army training centre has closed following its final passing out parade for 76 new soldiers.
About 800 people saw the final parade of the Army Training Regiment at Bassingbourn, near Royston, earlier.
The Ministry of Defence (MoD) said the centre at Bassingbourn Barracks would now close, with the base being mothballed at the end of the year.
The future of the barracks is being evaluated under the government's Army 2020 strategy.
The MoD said military personnel employed at the base would be relocated, but about 100 civilian jobs would be lost.
Last year the then Defence Secretary Liam Fox said the base could expand from 2016.
The former RAF base also houses a museum.