Fitzwilliam Museum in £4m bid for Poussin painting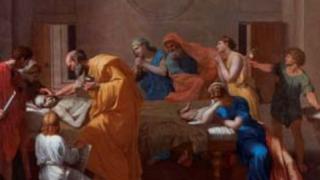 A Cambridge museum is hoping to raise almost £4m towards acquiring a £14m painting described as a "national treasure".
The Fitzwilliam Museum and the Art Fund are trying to secure Nicolas Poussin's Extreme Unction.
The 17th Century painting became available under a government scheme by which inheritance tax can be offset if works of art are given to museums.
Under the terms of the scheme the money must be raised by November.
The painting, which depicts a dying man being anointed with oil in accordance with the rites of the early church, is currently on display at the museum.
'Unique opportunity'
Dr Timothy Potts, director of the Fitzwilliam, said: "This would be the most significant old master painting acquired by the museum in nearly a century and would transform our representation of French art and of the classical tradition, through a masterpiece by the greatest French painter of the 17th Century."
He described it as a "destination painting" which would attract visitors from across Europe.
"A national and international treasure, it would be very much at home at the Fitzwilliam, and we are delighted that the Art Fund has joined with us in seeking to acquire it for Cambridge," he said.
The director of the charity the Art Fund, which assists museums and galleries to purchase works of art, said the fund-raising drive was launched in response to a "truly unique opportunity to acquire a painting of such immense importance".
Dr Stephen Deuchar said: "Even for a museum collection as fine as the Fitzwilliam's, this great Poussin would be a transformative acquisition."