Snowy Farr memorial celebrates Cambridge fund-raiser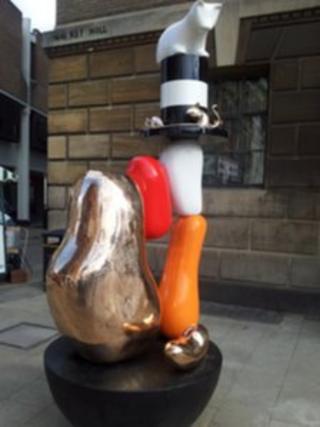 A sculpture celebrating the life and charitable work of a Cambridge "eccentric" has been installed.
The Snowy Farr memorial was created in recognition of the £125,000 he raised for charities for the blind.
"Snowy", whose real name was Walter Farr, entertained shoppers by busking, accompanied by mice and a cat which sat on his top hat. He died penniless in 2007, aged 89.
The design, by artist Gary Webb, was funded by city centre developers.
It has been criticised by some residents who believed Mr Farr would not have wanted money spent on a statue in his honour.
'Cambridge institution'
"It's undeniably true that he would not have wanted anything spent on him," said the city's mayor, Sheila Stuart.
"However, this money is in a ring-fenced pot for public art and there's nothing else we can do. We can either spend it on public art or give it back to developers.
"We've used the money in a very creative way, for an internationaly-renowned artist to create a world class piece of art right here in the city, to represent someone who was near and dear to probably tens of thousands of people," she added.
She described him as a "much-loved Cambridge institution".
"He will go down in our history as an eccentric character who brought huge pleasure both to residents and tourists," Mrs Stuart said.
Resident Yvonne Gooding said the sculpture was not a fitting memorial. "It does not represent the lovely old gentleman who spent his life working for charities," she said.
However, Chris Thomas, another Cambridge resident, said: "Few life-like statues remain in the public memory and most fade into the passer-by's mental background.
"This sculpture challenges because you do have to think about it, whilst retaining key elements of Snowy Farr's appearance and commitment to animal charity."