2012 Olympics plane forced to land at Cambridge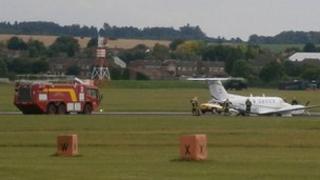 An aircraft being used for aerial shots of the 2012 Olympic Games had to make a forced landing at Cambridge Airport.
The King Air B200, which was being used as an airborne relay station, had to land after suffering a loss of its electrical system.
Operators, ASL of Belgium, said the pilot had to navigate on Saturday night using only charts and a compass.
ASL also said the plane's landing gear retracted and the aircraft "fell" on the runway but no-one was hurt.
The Civil Aviation Authority was notified and the airport has been given permission to remove the plane from the runway.
'Total electrical failure'
Philippe Bodson, from ASL, said: "The aircraft was used as a TV relay station for the Olympic Games in London.
"The crew noticed a total electrical failure at the end of their mission.
"The aircraft had no means of communication and navigated back to Cambridge airport via the traditional way with visual charts and standby compass.
"There was no post impact fire and the crew of three persons remained uninjured."
The Air Accidents Investigation Branch is expected to carry out an inquiry into the incident.