'Deep Fen' archaeologists awarded for Cambridgeshire finds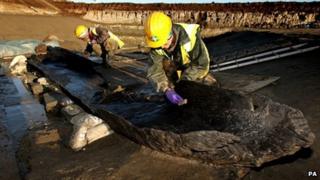 Bronze Age boats, spears and clothing dating back 3,000 years have helped secure two prestigious awards for Cambridgeshire archaeologists.
Excavation at a brick pit near Whittlesey earned the Cambridge Archaeological Unit (CAU) team the titles of best project and best find.
The British Archaeology Awards said the Must Farm dig "stimulated imagination".
CAU's Mark Knight said the site was the "first exploration into deep Fenland, submerged for 10,000 years".
The team has so far uncovered hundreds of items from the quarry, run by brick company Hanson, along the old course of the River Nene.
These include eel traps, ropes, buckets, wooden spoons and swords together with Neolithic pavements, and late Bronze Age dwellings.
'Transforming understanding'
"Most of the quarries we work with in Cambridgeshire are shallow gravel deposits, so archaeology tends to be very close to the surface," Mr Knight said.
"We often know what we're going to find before we start digging as you can see earthworks or crop marks.
"The clay being extracted is much deeper than the gravel islands people would have lived on, so it's opened up a world that was submerged throughout prehistory."
David Gibson, project manager for the excavation, said: "It is giving us a 3-D vision of this community that we only see very rarely in the world, let alone in this country."
In a statement, the Council for British Archaeology said: "The exploration of deeply buried deposits is transforming our understanding of prehistoric life and revealing a level of preservation previously only dreamt about."