Papworth opens mesothelioma cancer research centre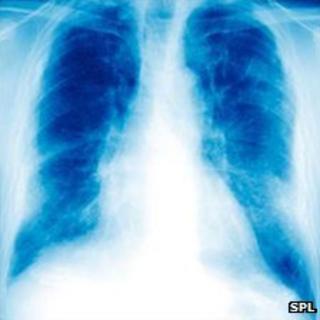 A cancer research facility, believed to be the first of its kind in Europe, has opened at Papworth Hospital in Cambridgeshire.
It will being together information for researchers and doctors tackling mesothelioma, a rare and terminal cancer caused mainly by asbestos.
The "Mesobank" will hold live tissue samples and anonymous clinical data.
Project leader Dr Robert Rintoul said it would greatly improve research into a "neglected cancer".
The disease largely affects the lining of the lungs and can take decades to develop.
'Devastating disease'
The annual number of mesothelioma deaths in the UK has nearly quadrupled in the last 30 years and the UK now has the highest mortality rates of any country in the world.
It kills around 2,300 UK residents each year - more than cervical cancer, testicular cancer, thyroid cancer, mouth cancer and malignant melanoma - according to the Health and Safety Executive.
Dr Robert Rintoul, consultant physician at Papworth Hospital, said: "In research terms, mesothelioma has been a neglected cancer for far too long.
"The opening of the Mesobank could really help change this, by making it quicker, easier and cheaper for researchers to undertake the kind of research that could delivery real advances in our understanding and treatment of this devastating disease."
The facility was set up by the British Lung Foundation and Mick Knighton Mesothelioma Research Fund.