River Nene pollution wipes out invertebrates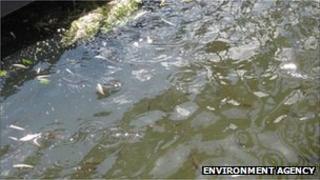 Chemicals leaked into a Cambridgeshire river have wiped out the majority of invertebrates along the affected stretch, the Environment Agency said.
The number of fish killed was now thought to be "well in excess" of the estimated 4,000.
The spill, believed to have been caused by vandals, affected the River Nene near Peterborough on or around 16 June.
The agency said water quality had almost returned to normal and fish were no longer being affected.
Norman Robinson from the Environment Agency said 100% of invertebrates including pond skaters, water shrimps, water snails, leeches, and Mayflies, close to the source of the chemical spill, had died.
Further down the river about 80% had been killed.
He described them as vital to the food chain.
"Our biological surveys have shown there is likely to be a long-term impact on the flora and fauna of the river," Mr Robinson said.
"We are now working out how to help the river recover."
The source of the leak was confirmed as Safapac, a hazardous chemical manufacturing company based at Orton Southgate, near Peterborough.
Its director has blamed the leak on vandals who broke into the premises.
Cambridgeshire Police have confirmed they are investigating the break-in which they believe took place between 22:00 BST on Friday 15 June and 05:30 BST on the Monday.