River Nene pollution 'caused by vandals', company says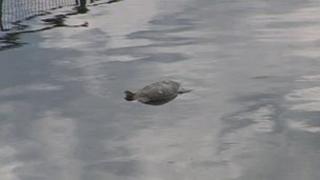 The company responsible for the chemical pollution of a Cambridgeshire river has blamed vandals for the leak.
Safapac, a hazardous chemical manufacturing company based at Orton Southgate near Peterborough, was broken into at the weekend, its director said.
Martin Steele said five 1,000-litre containers were opened and the contents poured into the River Nene.
The Environment Agency said about 4,000 fish are believed to have died as a result of the incident.
Restrictions on fishing in the The Wash have been lifted, which will allow the King's Lynn fishing fleet to resume operations.
However, the Environment Agency has now confirmed the immediate danger to fish in the River Nene has passed.
'Long-term impact'
Mr Steele said Safapac staff discovered the "potential problem" on Monday morning and immediately closed an emergency sluice to prevent further damage.
He added the company was working closely with police, the Environment Agency and Anglian Water to "mitigate the consequences of the release".
"Safapac has been manufacturing and packing hazardous chemicals for over 15 years and has never had an environmental incident," he said.
The company's products include chemicals for the medical, veterinary, agricultural and speciality chemical sectors of industry.
Mr Steele said the vandals broke into the company's secure chemical storage compound over the weekend.
He added: "We sincerely regret the damage to the environment this irresponsible action has caused.
"Though it is always difficult to prevent the action of mindless vandals, needless to say we will be looking for ways in which we can prevent such an incident in the future."
The Environment Agency expects the River Nene to return to normal "over the next few days".
However, a spokesman said: "Our biological surveys have shown there is likely to be a long-term impact on the flora and fauna of the river."
Cambridgeshire Police have confirmed they are investigating the break-in which they believe took place between 22:00 BST on Friday and 05:30 BST on Monday.