Addenbrooke's celebrates opening by the Queen 50 years ago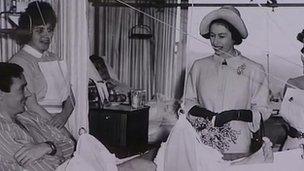 A Cambridge hospital has celebrated its 50th anniversary since being officially opened by the Queen.
Dr Mary Archer, chair of Cambridge University Hospitals, hosted a party for guests including more than 30 who were at the hospital when it opened.
A "memory bank" of photographs and stories collected from patients and staff from the time of the Queen's visit was also on show.
The "new" Addenbrooke's opened on 28 May 1962.
Michael Fuller, a laboratory steward in 1962, recalled: "During the tour of the building, the Queen stopped on the landing to look at one of our atomic ball and spoke models, which were state-of-the-art at the time.
"She suddenly burst out laughing, and pointed up at the model.
"Unbeknown to us some of the students had unscrewed the Perspex case and fitted six little men made out of pipe cleaners, each with a small flag of all the different nations of members of staff working at the lab, climbing up the model.
"She was very amused at this, and it set the tone on this happy event."
Construction work on the new site began in 1959, and the first six patients were admitted in October 1961.
The previous institution on Trumpington Street - in use since 1766 - stayed open, with both sites running alongside each other until October 1984, when the old hospital finally closed.
Related Internet Links
The BBC is not responsible for the content of external sites.