Nightingales tagged to track decline in numbers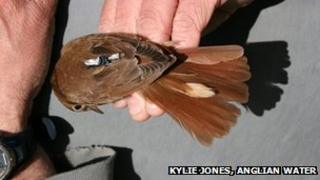 Nightingales in Cambridgeshire have been fitted with tracking devices as part of a project to investigate the decline in their numbers in the UK.
Anglian Water and the British Trust for Ornithology (BTO) have tagged 10 birds at Grafham Water.
It is hoped that information gathered by the "geolocators" will identify why fewer birds return to the UK following their annual migration to Africa.
A BTO spokesman said numbers had fallen by almost two thirds since 1995.
Dr Chris Hewson from trust said: "We have known for some time that nightingales were in trouble... and their numbers continue to fall."
'Wonderful birds'
He added: "The birds' range is also shrinking, with almost all now found in the south and east of England.
"It is vital that we find out whether they are running into problems either in, or on their way to and from, Africa. To do that, we need to know exactly where they spend the winter months and the route they take to get there."
The solar-powered geolocators fitted to the nightingales weigh 0.5g. They contain an electronic clock, calendar and a light meter which make it possible to determine where the birds are at any given time.
Mike Drew, an Anglian Water biodiversity scientist, said: "These wonderful little birds are clearly in a lot of trouble.
"With the Anglian Water region so important to them, it is only right we do what we can to help their conservation."