Rare black fox 'likely to be from fur farm', scientists say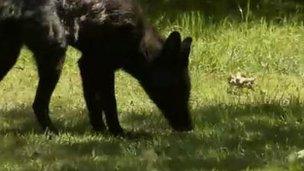 Scientists studying the body of a rare black fox killed on a Cambridgeshire road, say it may have originated from a Russian fur farm.
It was identified as an 18-month-old male silver fox, a thick-furred species selectively bred in Russia to be tame.
Helen McRobie, from Anglia Ruskin University in Cambridge, said genetic mutations suggested it may be a hybrid between a silver fox and raccoon dog.
She said it could have been brought to the UK as a pet which then escaped.
Silver foxes vary in colour from silver-grey to black.
They are native to Canada and Alaska, but have been farmed for their fur in Russia.
Mrs McRobie, a biomedical scientist, and technician Angela Wheatley, carried out a number of genetic tests when the animal was brought into their laboratory.
"Analysis of a key pigmentation gene revealed two new mutations that have not yet been described in scientific literature," Mrs McRobie said.
"More surprisingly, it revealed that they were a very close match to the same gene found in the raccoon dog."
Raccoon dogs are similar to foxes, but have shorter limbs.
"They have been farmed with silver foxes in Russia and it seems that a hybridisation between the two species may possibly have occurred from a mating," she said.
While it is unclear what the black fox was doing in the Cambridgeshire countryside, Mrs McRobie thinks it is likely that the male would have mated with the common British red fox.
She said that would result in offspring with black legs, a black tail and red body, known as smoky reds.
Mrs McRobie is keen to hear from anyone who may have seen a smoky red fox.
Related Internet Links
The BBC is not responsible for the content of external sites.