Fitzwilliam Museum £18m theft: Haul 'likely to still be in UK'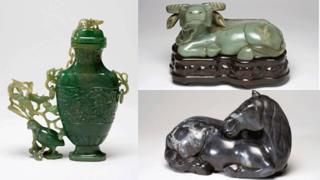 It was an audacious heist carried out inside 10 minutes.
A white VW Caddy van pulled up outside the Fitzwilliam Museum, in Cambridge, just before 19:28 BST on 13 April.
It was last seen on CCTV being driven out of the city at 19:38 BST.
By that time, rare Chinese art thought to be worth at least £18m had been taken.
Police said up to four people carried out the burglary after breaking into the Cambridge University museum through a back entrance.
Among the 18 items stolen were six pieces from the Ming dynasty, including a jade 16th Century carved buffalo, a carved horse from the 17th Century and a green and brown jade carved elephant.
Few other details have been released about the crime, which is being investigated by a 25-strong police team.
'Insatiable appetite'
Experts being consulted by Cambridgeshire detectives include officers from the Metropolitan Police's Art and Antiques Unit.
Dick Ellis, 63, who headed the unit for 10 years until he retired in 1999, said the initial task of the investigating team would be to make antique traders aware of the theft.
"The police will be circulating details to the antique trade and that will make it very difficult to pass it on to any legitimate or semi-legitimate dealer," he said.
"These pieces are of museum quality which any genuine collector would question. Serious collectors will know exactly where they are from.
"That makes it very hard to sell them on and they could receive as little as 3 to 7% of their true value."
Mr Ellis said thieves would probably rely on "international middle men" in a bid to move on the items.
But the former Met detective said it was unlikely that they had been stolen to order.
"In 30 years of investigating this type of crime, I've found that this type of billionaire collector has been found not to exist - it's a media myth," he said.
"Almost certainly, in my opinion, the museum was targeted in the same way as we saw thieves target rhino horns when their price went through the roof.
"They have an appreciation that in the last couple of years the Chinese art market has now outstripped the United States and European art markets to become the premier art market in the world.
"The thought is that if you steal some quality items - and you will find quality items in museum collections - you can sell them on to a Chinese market that has an insatiable appetite for this sort of thing."
Police said forces around the world had been made aware of the theft.
But Det Ch Supt Karen Daber, of Cambridgeshire Police, said inquiries had not led officers to "any particular country".
She said the force was "keeping an open mind" on whether the haul was still in the UK but added ports and airports had been placed on alert.
Mr Ellis, who works for the London-based Art Management Group, said it was likely the items would have been stolen in a pre-planned operation carried out by a British gang.
"I would've thought you are looking at this being a British raid rather than a Chinese group committing these thefts," he said.
"Therefore, the likelihood is that they are still in the UK.
"The gang had clearly been into the museum. They had clearly made a security survey and identified the Achilles heel of the museum.
"They would have gone into the museum to select the items they wanted."
Police are appealing for anyone with information about the crime to contact them.