Fitzwilliam Museum theft: White van 'used by raiders'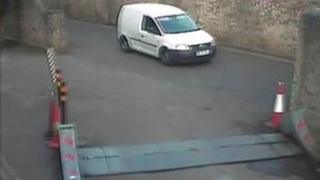 A white van is thought to have been used in the theft of Chinese "valuable and culturally significant" art from the Fitzwilliam Museum in Cambridge.
Police have released images of the VW Caddy van stolen from the Tower Hamlets area of east London on 7 April.
The 18 items - thought to be worth at least £18m - were part of Cambridge University museum's permanent collection.
The burglary at the museum happened at about 19:30 BST on 13 April.
Police said the van had a dent in the driver's side panel and tinted rear windows.
Detective Chief Superintendent Karen Daber said: "We would like to hear from anyone who thinks they may have seen the van in, or around, Cambridge before or after the burglary.
"We are also keen to know where that van is now and anyone who has seen it since 13 April should contact us immediately."
'Great blow'
Police said the work was "valuable and culturally significant".
A university spokesman said: "These works are a highly important part of our collection and their loss is a great blow."
Police believe up to four people could have been involved in the theft. It is thought they broke in via a back entrance.
Among the stolen items in Cambridge were six pieces from the Ming dynasty, including a jade 16th Century carved buffalo, a carved horse from the 17th Century and a green and brown jade carved elephant.
A jade cup and vase which is carved with bronze designs was also stolen along with an opaque jade brush washer.
Eight pieces from the Qing dynasty were taken, and a table screen from the Qianlong period and a jug and vase from the 18th Century make up the rest of the stolen items.