Fountains turned off in Peterborough as water runs short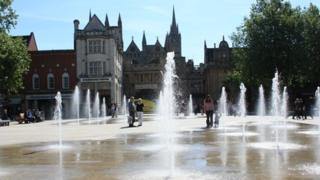 Public fountains in Peterborough's Cathedral Square have been turned off to conserve water.
Anglian Water, which serves the city, has imposed its first hosepipe ban in 20 years in parts of the east confirmed as being officially in drought.
It said filling or maintaining ornamental fountains was not permitted during the ban, which began on 5 April.
A city council spokesman said it was a disappointing decision to take but necessary to conserve water.
Anglian Water is one of seven companies in the south-east and East Anglia to impose water restrictions following two dry winters that left reservoirs, aquifers and rivers below normal levels.
'Capturing rainwater'
A ban on hosepipes, which also affects council-owned fountains, means people in breach of these terms risk being prosecuted and fined up to £1,000.
Paul Phillipson, executive director of operations for Peterborough City Council, said: "It is very disappointing to have to turn [them] off as they are enjoyed by so many people.
"But it is important that we do our bit to help get the message across about the importance of conserving water, particularly this year."
The council also said it would not be using planters in Cathedral Square this year, because of the ban.
However, it said hanging baskets would be installed and it was "considering ways of capturing rainwater from the roof of the town hall to water them".