Peterborough Museum reopens after £3.2m upgrade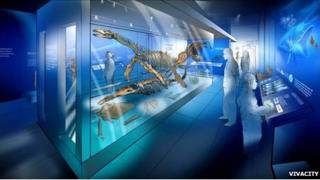 Peterborough Museum has reopened following a £3.2m redevelopment.
The upgrade to the Grade II listed Georgian building includes interactive galleries and new facilities for visitors with visual impairments.
It will now be able to display more than 200,000 items from its collection. Previously the museum had space to show only 10% of its artefacts.
The project was funded by Peterborough City Council, culture organisation Vivacity and the Heritage Lottery Fund.
Stuart Orme, interpretation manager for Vivacity Heritage Service, said one of the most important additions to the museum was a restored Victorian operating theatre.
'Carbolic and chloroform'
The building was home to the city's hospital in the 1850s and the original operating theatre was inaccessible to the public as it was being used as a store room for some of the museum's artefacts and paperwork.
"It is incredibly important, as it is one of only three historic operating theatres in the country," Mr Orme said.
"It's the only one from the late Victorian period when modern scientific surgery was just starting, so this really was the era of carbolic and chloroform."
New gallery space has also been created for the museum's collection of Jurassic "sea dinosaurs", described by Vivacity as "one of the best anywhere in the world".
Deputy leader of Peterborough City Council, Councillor Matthew Lee, who is also a trustee for the museum and its collection, said the project had helped restore the building to its former glory.
It would also ensure the museum's future for generations to come, he said.
The redevelopment took 15 months to complete.
Entrance to the museum will continue to be free although admission charges will be introduced for selected exhibitions and events.