Protest greets Dominique Strauss-Kahn talk in Cambridge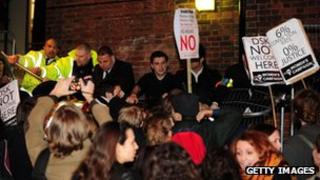 Two people have been arrested at a protest over former International Monetary Fund head Dominique Strauss-Kahn's speech to a university debating society in Cambridge.
Mr Strauss-Kahn arrived to jeers at the Cambridge Union Society venue on Friday and protesters scuffled with police.
The visit was opposed by a student union group after he faced sex assault charges, which were later dropped.
The society said Mr Strauss-Kahn had a right to "free speech".
Mr Strauss-Kahn was invited to the Cambridge Union Society last year, before allegations about a sex attack on a chambermaid in the United States arose.
They led to his resignation from the IMF, but the criminal investigation against him in New York was dropped in August. A criminal investigation on attempted rape claims in Paris was dropped in October.
However, the Cambridge University Student Union Women's Campaign said the sex assault charges he had faced should have given the society "pause for thought" about who it extended its invitations to.
Mr Strauss-Kahn was ushered in through a back entrance to the Cambridge venue amid shouts of "you must be ashamed of yourself" from a lone protester.
Trouble broke out as Mr Strauss-Kahn gave a private speech about economics to hundreds of Cambridge University students.
Security guards protected entrances to the building but protesters tried to scale fences at the back of the building and two people were arrested.
A Cambridgeshire Police spokeswoman said a 19-year-old man had been arrested on suspicion of assaulting a police officer and a 23-year-old woman was held on suspicion of breaching the peace.
It was reported that at least one university building had been defaced.
Journalists were forbidden to hear Mr Strauss-Kahn's speech but one student who was in the audience told reporters the French politician and economist had been asked one question about the chambermaid incident and told listeners he had been "acquitted".
More than 750 students had signed a petition calling for the withdrawal of the invitation to Mr Strauss-Kahn to address the society.
An open letter published by Cambridge University Student Union Women's Campaign said: "Numerous charges of attempted rape and sexual assault should give the Union Society pause for thought when administering their speaker invitations."
Protesters accused the society of seeking to titillate its members by giving a platform to the former French presidential-hopeful.
Banners were hung on its Bridge Street building criticising the visit.
A student who took part in the action said: "After we discovered he was still coming... we wanted to exercise our own freedom of speech as individuals and let the union know what we think."
The president of Cambridge Union Society, Katie Lam, denied the invitation had been made to "court controversy".
She said: "We invited Mr Strauss-Kahn while he was still head of the IMF and well before the international interest surrounding him.
"In order for us to be a neutral forum promoting free speech, without caveats or conditions, we can't engage in any kind of judgement on people."
Mr Strauss-Kahn had been invited because of his economic knowledge and experience of French politics, she said.
A Cambridge University spokesman said: "The university respects academic freedom and freedom of speech."