Police mergers 'almost inevitable', says Cambridgeshire chief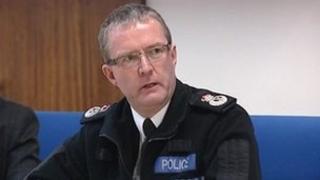 A merger of police forces is "almost inevitable" if government cuts continue, the Chief Constable of Cambridgeshire has warned.
Simon Parr told the BBC the mergers were the likely result "if what the chancellor says about spending comes to fruition".
The Cambridgeshire force has slashed £11m from its budget, since 2010.
The Home Office said merging was not necessary and it was helping forces make savings while protecting services.
In October, the force agreed to merge some units with two other forces to save £3m a year.
It also announced it would cut 38 senior officers.
'Consent of communities'
Mr Parr said Thames Valley Police already looks after three counties.
"I don't see why you can't have three or four counties with one chief anywhere else in the country, provided you get your management structures right," said Mr Parr.
"The reason I say that is if the money keeps coming out of policing at the speed... it's coming out and the next spending review hits us with another 10 or 12% cuts, then I will run out of places to take money other than the frontline.
"If you want to take money out of an organisation, without affecting the frontline, one of the things you will have to look at in the next four to five years will be merging police forces, with the consent of the communities."
Mr Parr outlined changes to the service, which are due to be introduced on 2 April.
'Police-led company'
He said 230 staff were at risk of losing their jobs, 400 police staff will have been redeployed, and at least 80% of all police officers will have been posted to a new role or location.
A Home Office spokesman said: "Forces don't need to merge to share services.
"They must remain local and more accountable."
He said the Home Office was supporting forces by "joining up police procurement and establishing a new police-led company to manage IT systems for forces".
Slashing bureaucracy was saving up to 3.3m police hours each year, the spokesman added.