Street pastors in Peterborough become comic strip 'heroes'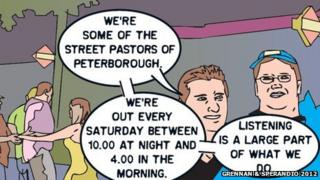 Street pastors in Peterborough have been turned into comic strip heroes to publicise their work.
Artists Simon Grennan and Christopher Sperandio created the 15 cartoons for a local newspaper.
As part of a Peterborough City Council, Arts Council England and Royal Society of Arts (RSA) project, the artists accompanied the pastors at weekends.
Pastor Tim Edworthy said the results captured "the essence of what we are trying to do in the city".
The arts duo, Grennan & Sperandio, who have previously collaborated on projects with DC Comics, were commissioned by the RSA as artists in residence to the street pastor group.
The said they wanted to "provide an insight into what motivates each street pastor in the comic strip portraits".
'No wrinkles'
"It has been fascinating to accompany them as they move around the city and watch out for anyone who might need help, anyone who has become separated from friends, can't bear to wear their high heels a moment longer or simply want to talk," Mr Grennan said.
The pastors met a number of artists but Mr Grennan was chosen as they thought "he had a real feeling for what street pastors do".
Pastor Sheila Bucknell, who features in the comic strip, said: "We see some wonderful sights on the streets but it can be very sad when people are in great distress or have been hurt.
"If we can comfort them, or simply listen, it's a great thing for all of us.
"I hope all of that care and concern comes through in the comic strip.
"The good thing is my wrinkles don't show," she added.
The comic strip is being published every Friday in the Peterborough Evening Telegraph.