Soham officers' relatives were paid by reporter, says MP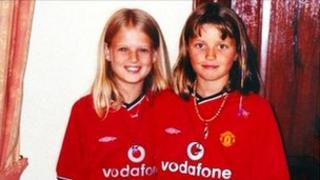 Police officers investigating the Soham murders in Cambridgeshire were paid for information, an MP has claimed.
Labour MP Tom Watson said he believed a police report suggested a News of the World reporter paid officers' relatives after the deaths of schoolgirls Holly Wells and Jessica Chapman in 2002.
Mr Watson made the claim about Alex Marunchak in a House of Commons debate on Wednesday.
Mr Marunchak told the Press Gazette the allegations were "completely untrue".
Cambridgeshire Police said they were unaware of any such allegations.
Ten-year-olds Jessica and Holly were murdered by school caretaker Ian Huntley, who was jailed for life.
Mr Watson, the MP for West Bromwich East, alleged Mr Marunchak was overheard saying he was paying police public relations for information about the girls' deaths.
Manchester United tops
"I believe the Met [Police] is sitting on an intelligence report from late 2002 that claims a police contact overheard Marunchak claim he was paying the relatives of police officers in Cambridgeshire for information about the Soham murders," Mr Watson said.
"As far as we know, those allegations have not been investigated."
Mr Watson, deputy chairman of the Labour Party, is a member of the Culture, Media and Sport select committee, which is investigating allegations of phone hacking.
"I do not know whether the intelligence reports are accurate, but I do know that Alex Marunchak was involved in writing stories about how the Manchester United tops of those young girls were found," he said.
'Never wrote copy'
In a statement to the Press Gazette, Mr Marunchak said he was in charge of the Irish News of the World at the time of the murders.
"I never worked on stories about the Soham murders, never wrote copy, nor interviewed anyone," he added.
"I did not pay any relatives of police officers involved in the Soham murders.
"For the avoidance of any doubt - what Watson said is completely untrue."
In the same Westminster Hall debate, Mr Watson also alleged at least one of the Soham girls' parents was named in the evidence of private investigator Glen Mulcaire.
Det Ch Con John Feavyour, of Cambridgeshire Police, said: "I am not aware of any allegations that payments were made to Cambridgeshire Police for information regarding the investigation into the murders of Holly Wells and Jessica Chapman.
"I will now write to MP Tom Watson to ask that he provides me with all of the details in his possession in order that I can carry out an inquiry accordingly."