Addenbrooke's opens principal teenage cancer centre for East Anglia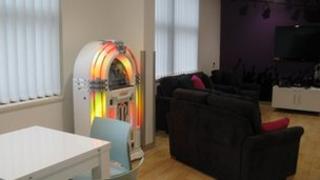 The first two patients have moved into a teenage cancer unit at Addenbrooke's Hospital in Cambridge.
The 11-bed ward cost £2.9m and is expected to become the principal cancer treatment centre in East Anglia for people aged 14 to 24.
Designed to "allow teenagers to be teenagers", it includes social and educational zones and parents' areas.
It was funded by the Teenage Cancer Trust with contributions from Cambridge University Hospitals NHS Trust.
The facility is the 22nd to be opened by the Teenage Cancer Trust, but the only one of its kind in East Anglia.
It will be staffed by a dedicated team of nurses, healthcare assistants, a ward clerk and three doctors.
Dr Helen Hatcher, consultant oncologist at Cambridge University Hospitals, said: "Evidence shows that a dedicated unit staffed by specialist consultants and nurses results in better survival rates and faster recovery."
She said past and present patients had played a significant role in designing the "home from home" facility.