Chittering murder probe: New witness appeal to drivers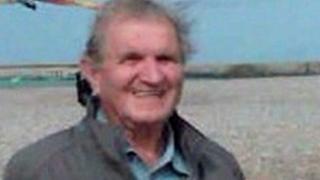 Police investigating the murder of a 76-year-old man in Cambridgeshire have made a fresh appeal for witnesses.
Llywelyn Thomas was found dead at his home in Chittering on 18 December.
His silver Rover 75 estate, registration BJ51 CJV, was stolen from the house on Saturday 17 December, the night Mr Thomas was killed.
Police are keen to trace two drivers who were seen overtaking the slow-moving Rover on the A10 between Denny Abbey and Milton at about 22:20 GMT.
The car was known to have mechanical problems and was only capable of slow speeds.
Police said a potential witness had come forward to say they had been stuck behind a slow car on that stretch of road.
The witness said two cars overtook the slower vehicle.
'Significant information'
Det Ch Insp George Barr, said: "We are now able to narrow the timeframe on the night.
"We know Mr Thomas was still alive at 9.30pm and his Rover car was dumped in Milton before 11.30pm.
"This latest information means it is likely to have been on the road between about 10.10pm and 10.25pm.
"The witness describes two cars overtaking the slow-moving vehicle and I would urge those drivers to come forward."
He said the drivers may have "significant information" about whoever was inside the Rover.
Mr Thomas, who had been a farmer in south Wales before moving to Cambridgeshire, suffered head injuries during what police believe was a botched burglary.
Three watches and a wallet are believed to have been taken from the property.
A 22-year-old man and 21-year-old woman, arrested in connection with the case, have had their bail extended to 10 May.