Getty Museum directorship for head of Fitzwilliam Museum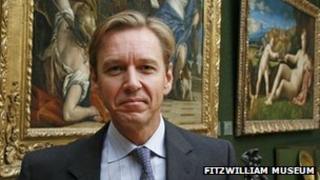 The head of Cambridge's Fitzwilliam Museum has been appointed director of the J. Paul Getty Museum, Los Angeles.
Dr Timothy Potts, director of the Fitzwilliam since 2008, is expected to take up his new post on 1 September.
He said it had been "a great privilege" leading the museum and he was leaving it "a robust and dynamic institution" thanks to its committed staff.
He added he was delighted to be joining the Getty which he called a "uniquely well-rounded university of the arts".
During his time at the Fitzwilliam, Australian-born Mr Potts was instrumental in bringing a number of one-off exhibitions to Cambridge.
Theses included works by Dutch artist Vermeer, which attracted record numbers of visitors to the museum.
A specialist in ancient art and archaeology, he also oversaw the complete refurbishment of the museum's Greek and Roman galleries.
James Cuno, president of the J. Paul Getty Trust, said Mr Potts would bring with him "the vision and experience that will move the Getty Museum forward on an international stage".
Mr Potts' previous posts included director of the Kimbell Art Museum in Fort Worth, Texas, and director of the National Gallery of Victoria in Melbourne, Australia.