Duchess of Cornwall sees Cambridge hospital diabetes work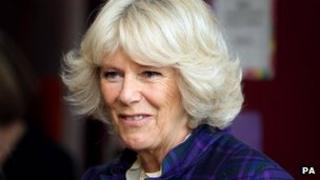 A star of the movie War Horse who has diabetes has met the Duchess of Cornwall at a hospital research centre investigating the condition.
Actor Jeremy Irvine met the duchess at a visit to the Cambridge Wellcome Trust Clinical Research Facility at Addenbrooke's Hospital.
The duchess learnt about the work of the Juvenile Diabetes Research Foundation.
The foundation is working on the development of an artificial pancreas.
Mr Irvine took part in trials at the centre in 2005 and 2007.
Clinical trials
During her tour of the facility, Mr Irvine, who has type one diabetes, explained how technology helped him manage his type one diabetes while pursuing a film career and said it was an honour to meet the duchess.
He said: "Research and development have given me far greater freedom than 10 years ago and the research coming now will make sure type one diabetes doesn't stop people following their aspirations."
The duchess also met children living with the condition and who have been involved with clinical trials.
She told them: "You're extremely brave. I've been reading about it and I had no idea how it can affect people's lives."
Type one diabetes is a chronic, life-threatening condition which develops when the insulin-producing cells in the body have been destroyed and the body is unable to produce any insulin.
Nobody knows why these insulin-producing cells have been destroyed but it is thought to be linked to the body having an abnormal reaction, possibly triggered by a virus or infection.
It normally develops before the age of 40, especially in childhood, and accounts for up to 15% of all people with diabetes.