Anglia Ruskin Uni scientist to track black squirrels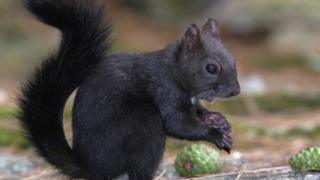 A scientist at the Anglia Ruskin University in Cambridge has set up a website to track the spread of black squirrels.
The creatures, which originate from North America, were first spotted in Bedfordshire in 1912.
They have since been sighted in Hertfordshire and Cambridgeshire.
The university lecturer now hopes the public will log sightings on the Black Squirrel Project website.
Helen McRobie, a lecturer in the university's Department of Life Sciences, wants to use the information to track how far the animals have travelled.
DNA missing
"Black squirrel numbers seem to have risen steadily over the years and they have been spotted in Hertfordshire and Cambridgeshire as well as Bedfordshire, " she said.
"Although we know black squirrels are spreading, as yet we don't have evidence that they are living elsewhere in the British Isles."
Black squirrels are the same species as grey squirrels, which also come from North America, which were introduced to more than 30 different sites across the UK between 1876 and 1929.
There are now more than two million grey squirrels in the British Isles and their numbers continue to rise.
Scientists at the Anglia Ruskin University have discovered black squirrels have a piece of DNA missing from a gene which produces pigment, which means they can only produce black fur.
'Successful invader'
Ms McRobie is urging members of the public to submit sightings of the distinctive mammals at the project website, to map the geography of the population.
"As it stands, we know the black squirrel has travelled approximately 50 miles in the last 100 years, which equates to half a mile a year," she said.
"The aim of the Black Squirrel Project is to gather data on geographical on the range of the grey and black squirrel in the British Isles.
"The data may help explain why the grey squirrel has proved to be such a successful invader in the UK.
"It would be great if as many people as possible can visit the website and submit their sightings."