Cambridgeshire's Secret Garden Party is to increase in size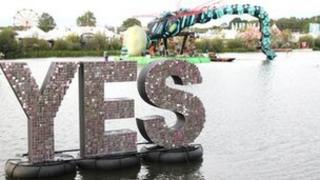 Organisers of a Cambridgeshire festival have been granted permission to its size by almost 25%.
The Secret Garden Party's licence holder, Blackwoodsman Ltd, applied to increase the Abbots Ripton site capacity from 26,000 people to 32,000.
Nearby residents had raised concerns about increased noise and congestion.
Huntingdonshire District Council, which approved the application, said the organisers had given evidence measures were in place to address the issues.
A council spokesman said the licence had been granted for a two-year period.
The licensing panel had requested evidence that issues including crime prevention, public safety, prevention of public nuisance and protection of children would be addressed by the applicant.
"The panel felt that the organisers of the Secret Garden Party were doing everything they possibly could to meet these licensing objectives," the spokesman said.
Festival co-founder, Fred Fellowes, said it would not be able to increase further as the landowner had indicated no further expansion would be permitted.
The Secret Garden Party was named the "best medium-sized festival" in the 2011 UK Festival Awards.
It has been taking place on a private estate in Abbots Ripton, near Huntingdon, since 2004 when 1,000 people attended.