Chittering murder probe: Police seek stolen watches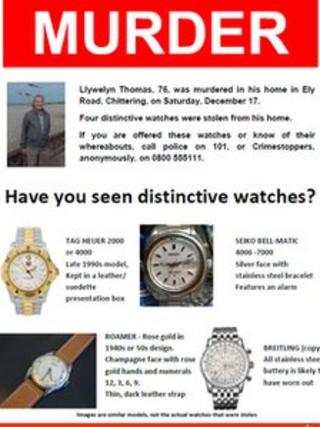 Police investigating the murder of a 76-year-old man in Cambridgeshire have released a poster featuring watches similar to ones stolen from the victim.
The posters are being put up in Chittering, where the body of Llywelyn Thomas was discovered on 18 December.
Police believe he was killed during a "botched burglary". Four "very distinctive" watches, a black wallet and a silver tea-set were taken.
Anyone offered the watches for sale is asked to contact police.
The watches are a Seiko Bell-Matic, a rose-gold Roamer, a Tag Heuer with a silver and gold bracelet and a fake stainless steel Breitling.
Det Supt Jeff Hill said: "These watches are very distinctive and easily recognisable.
"Whoever took the watches will be looking to sell them on."
Police believe Mr Thomas, who farmed near Bridgend before moving to Cambridgeshire 12 years ago, was killed on the night of 17 December.
A man and a woman remain on bail in connection with the investigation.