Bicton wind farm public inquiry hears final evidence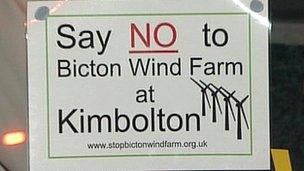 An inquiry into plans to build four wind turbines in west Cambridgeshire is hearing its final day of evidence.
Last year, Broadview Energy's proposal to build the 410ft-high (125m) turbines at Bicton near Kimbolton was rejected by Huntingdonshire District Council.
The company appealed and the public inquiry began in August at the council's Huntingdon headquarters.
Opponents say the location is inappropriate and will "cause damage to cultural heritage" of the area.
In a statement, Broadview Energy said: "We remain of the belief that the Bicton site is an excellent location for a small wind farm.
"Sites such as this have a vital role to play in increasing the supply of energy from clean, renewable sources which in turn will help to tackle climate change, increase our energy security and contribute towards decarbonising the power sector."
Barristers for Broadview Energy, Huntingdonshire District Council and Stop Bicton Wind Farm all called expert witnesses to speak at the inquiry.
Related Internet Links
The BBC is not responsible for the content of external sites.