Babraham Institute expansion could create 400 jobs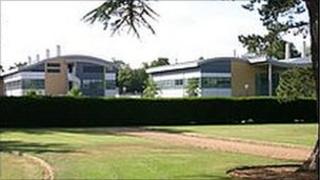 More than 400 new biotechnology jobs could be created in Cambridgeshire after plans to expand the Babraham Institute were approved.
South Cambridgeshire District Council granted the life sciences research institute permission for four new research and development buildings.
They will be part of a £44m government investment in the research campus.
Institute director Professor Michael Wakelam said the jobs would be created by start-up and foreign companies.
In March, the government announced it would invest in the Babraham campus to attract major firms to the area.
The chancellor said the grant would come from the bank levy, a tax on the value of debts of UK banks.
'Research benefits'
"This is a recognition that just doing research on its own is not enough. What you've got to do is get the benefits of that research," Prof Wakelam said.
"Provision of facilities to set up companies that can benefit from that research is really important.
"As well as improving infrastructure, including new roads on the campus, the buildings will house... companies that will build upon the basic research that's carried out at Babraham, Cambridge University, and elsewhere in the UK."
He said the facilities would allow "academic and company scientists to work co-operatively" to develop new ideas and products for the future.