Cambridgeshire guided bus celebrates one millionth passenger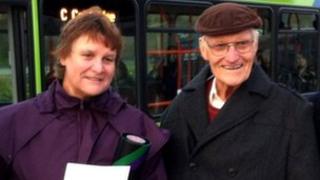 The one millionth passenger has boarded Cambridgeshire's guided bus five months after the service opened in August, Cambridgeshire County Council says.
Christine Chandler, from Colne, said she was a regular passenger on the route which links Huntingdon with Cambridge and Addenbrooke's Hospital.
She described it as a "stress-free" way to take her father to his chemotherapy appointments at the hospital.
Councillor Steve Criswell said the "milestone" was "ahead of forecasts".
The busway opened two years behind schedule and some campaigners criticised the plans, claiming that reinstating a disused railway track would have been a cheaper and easier option.
Mrs Chandler admitted it would "probably" be cheaper to drive from her home near St Ives to the hospital, but said the busway was "easy to use and definitely the best way to get there".
Andy Campbell, from Stagecoach - one of two companies operating buses on the route - said passenger numbers on the busway had risen "much faster than anticipated".
He confirmed the company would be ordering new buses to cope with demand in 2012.
He said future plans also included an extra bus stop in St Ives, improved signage at stops and more information for passengers onboard the buses.