Cambridge homeless charity Flack raises £45,000 to secure future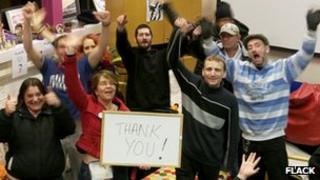 A charity supporting homeless people in Cambridge has raised more than £45,000 in five weeks to prevent its closure.
Flack's trustees said it must raise the sum to prove to "major funders" that it could sustain itself for six months.
The charity announced it exceeded the target and the trustees confirmed it was no longer facing closure.
Kirsten Lavers, creative director, said fund-raising by film actor and patron Tom Hardy and a "terrific team effort" secured Flack's immediate future.
The charity was established two years ago and runs a training centre in Cambridge as well as publishing a monthly magazine, written and produced by the homeless.
Its trustees said funding had "dried up" and gave the charity a deadline of 5 January to raise £45,000, otherwise it would close.
After a final weekend of fund-raising and an individual donation of £2,500, the charity announced its target had been exceeded on Monday.
Ms Lavers said she was "bowled over" by people's generosity.
"Much of it is down to our patron, Tom Hardy, and his fans. They have sent donations from all over the world.
"It is really quite humbling," she said.
The trustees described it as a "magnificent response" and said Flack now faced the challenge of securing its long-term future.