Cambridgeshire guided bus expecting one millionth passenger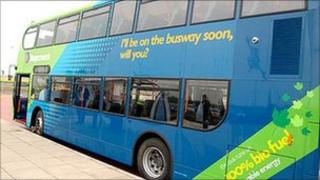 Cambridgeshire's guided bus is expected to carry its one millionth passenger in early January, council bosses predict.
The busway route, which links Huntingdon with Cambridge and Addenbrooke's Hospital, was opened two years late, in August.
Andy Campbell from Stagecoach, one of two busway operators, said he expected to have carried 2.5m passengers by the end of its first year.
He said he was already in talks to order more buses for the route.
Bob Menzies, head of busway delivery at Conservative-controlled Cambridgeshire County Council, said: "The high point was definitely the opening of the busway.
"More people turned up to that than objected to the thing in the first place."
Tim Phillips, from pro-rail group Cast.Iron which campaigned against the busway, said: "I can't deny that a bus riding on a concrete gutter works, but it doesn't mean it's a transport success."
He said the group still believed reinstating a disused railway track between St Ives and Cambridge, as well as creating a new bus service, would have been the best solution to transport congestion in the county.