Knitted Nativity spreads Christmas message in Cambridge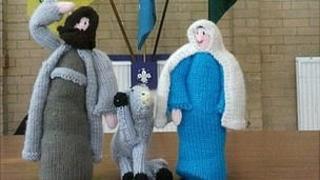 A knitted Nativity scene is touring the Arbury district of Cambridge to spread the Christmas message.
It was knitted by Phyl Barringer, from the Church of the Good Shepherd.
The tour is inspired by a Mexican Advent tradition called Las Posadas, which recreates Mary and Joseph's search for accommodation in Bethlehem.
Anthony Lees-Smith, the Good Shepherd's curate, said: "It's a great way of bringing together different groups within the community at Christmas."
Each night the figures stay with a different family.
The aim is to bring together people who would not otherwise meet in both Arbury and its adjacent new development, Orchard Park.
Mr Lees-Smith said: "When the figures travel from house to house the idea is that the new family looking after them will offer a bit of hospitality, a drink and something to eat to the people who are coming and visiting."
During the day, Mary, Joseph and the donkey visit the area's community groups, schools and nursing homes.
The crib figures will end their tour on Christmas Eve at the Church of the Good Shepherd's crib service.