Lego Dalek Santa is 'Christmas tradition' for Huntingdon family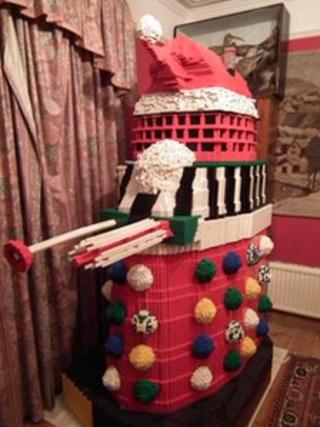 Most families make a tree the centrepiece of their Christmas decorations - not a Santa Claus Dalek made from about 100,000 Lego bricks.
But the 7ft (2m) festive Dalek is what a Cambridgeshire family have gone for, to continue an annual tradition.
Mike Addis and his wife Catherine Weightman, from Huntingdon, said making Lego Christmas decorations had been a "family tradition" for 18 years.
Ms Weightman said it took two months to create the Dalek, and admitted their teenage children might now be "a little embarrassed" to join in their hobby.
Ms Weightman said she and her husband were both Lego fans as children and decided to build their first Christmas decoration for their eldest son, who was a baby at the time.
'Not an obsession'
Over the years the decorations have become larger and more elaborate.
The Dalek - based on the famous foe of Doctor Who - comes complete with brick Santa hat and white beard. It is the latest in a Lego line-up that has included Snowmen, post boxes, toy soldiers and even a scale version of a church with reindeer on the roof.
Each year the family send a Christmas card to friends with a photograph of the children in front of that year's model.
"I don't see this as an obsession," Ms Weightman said.
"Other people have their interests and this is what we do.
"Instead of watching television we do this for an hour or so each evening, although it is mainly the adults who do it now."
'Ultimate creation'
The family throw a party when it is time to take the Christmas decorations down, and the model apart.
"We need help because it takes at least a week to un-build it, stack the bricks and put them all away," Ms Weightman said.
"I don't know if the Dalek will be our ultimate creation.
"We're running out of themes now. We've done lots of Father Christmases and snowmen, but we haven't got many green bricks for things like a tree."
Miss Weightman said the family had accumulated a vast collection of Lego over the years and people often bought them extra bricks as Christmas presents.
"We've just about reached maximum capacity now and we're running out of room to store them," Miss Weightman said.
"We don't need any more Lego bricks now, thank you."