National Trust MyFarm project expands into 'conventional' farming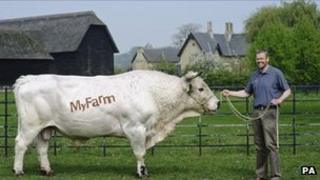 The National Trust has expanded its community farming initiative MyFarm to include conventional as well as organic methods.
The project, at Wimpole Home Farm in Cambridgeshire, gives "virtual farmers" a say in running its 1,200-acre (485-hectare) organic farm.
It has now taken over neighbouring arable land which was previously farmed conventionally by a tenant.
The trust said its "farmers" would now be able to compare both methods.
Farm manager Richard Morris said: "We already owned the 250-acre (100-hectare) arable farm, but now the tenant has retired, we have decided to include it in the MyFarm project."
Reconnect people
He said the "MyFarmers" would now have an opportunity to run the two farms in parallel and learn about the advantages and disadvantages associated with both farming methods.
"We hope to make the differences and reasoning for both methods clearer and easier to digest," Mr Morris said.
"Whatever scenario the MyFarmers are presented with, we will be relying on them to make sure their decisions lead to both farms being profitable businesses."
The National Trust started the MyFarm project in May. Its aim is to reconnect people with farming methods.
For a small subscription, "virtual farmers" are able to help make decisions about how the farm is run and which crops are sown.