Young volunteer from Cambridgeshire to be 2012 torchbearer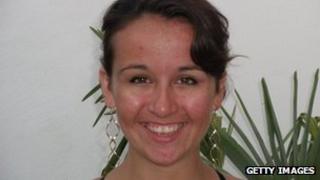 A community volunteer from Cambridgeshire has been given the chance to carry the Olympic torch on its journey around the UK next year.
Fiona Sheppard, a 20-year-old student, received the offer in recognition of the amount of volunteering work she does in the community.
Miss Sheppard helps run a social group for adults with Asperger's and supports homeless charities and a hospice.
She said she was "humbled and touched" to have been nominated by her friends.
Miss Sheppard admitted she nearly missed out on the chance to be a torchbearer, after failing to check her emails and mobile phone messages.
"My parents had to get in touch and say 'just answer your phone, Fiona'.
"I was absolutely shocked and delighted when I found out I was going to be a torchbearer," she said.
"The problem is that I've known about this now for two weeks, and have had to be very mysterious about what I'm up to.
"It's so nice now to let the cat out of the bag."
'Different perspective'
Miss Sheppard, who is studying biochemistry at Bristol University, began volunteering when she was a pupil at St Mary's School in Cambridge.
"It had a great community atmosphere and really encouraged you to do voluntary work and become good members of society," she said.
"We used to go on trips to Lourdes in the holidays and help disabled and elderly pilgrims - just taking them around and chatting to them."
At university she joined the student community action group.
"They had about 30 projects you could get involved with, and I started working with a group supporting people with Asberger's Syndrome," Miss Sheppard said.
"I really have enjoyed working on that project because they do see life from a different perspective."
Miss Sheppard will be one of 8,000 people carrying the torch on the 8,000-mile route to the London 2012 Games.
Confirmation of the final torchbearers will be announced by the Games' organisers, Locog, in March.