Flint Cross recycling fire 'to burn for days'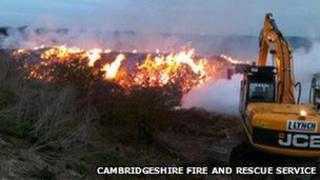 A fire involving 1,000 tonnes of wood and sawdust at a recycling plant in Cambridgeshire is expected to burn into next week, the fire service has said.
Crews were called to the fire off the A505 at Flint Cross, near Royston, on Wednesday evening.
They remained there for several hours, with more than 50 firefighters involved.
The fire service said it had worked with the Environment Agency to monitor wind direction and contain the fire.
The site owners are monitoring the fire, with regular reinspections being carried out by firefighters.
Group commander Alan Brown said: "The fire is burning in a controlled manner and will continue to be closely monitored.
"As this site is very close to a groundwater collection area, we have been working closely with the Environment Agency to ensure we do not use any more water than necessary."