Littleport care home inquest: Police investigated death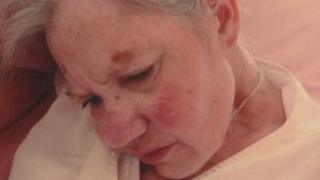 A police investigation was launched after an elderly woman died with severe bedsores after she was not turned at a Cambridgeshire care home, an inquest has heard.
Ana Dunmore, 74, who had dementia, was not turned for nine days while at the Old Vicarage in Littleport in 2009.
She died of dementia, pneumonia and pressure sores at a different home on 10 July 2009.
The inquest at Huntingdon was told the investigation did not go any further.
Nurses had advised staff at the home to move Mrs Dunmore at least every two hours, the inquest heard previously.
'I was shocked'
But Mrs Dunmore was not turned at all between 18 and 27 June.
The home's assistant manager, Danny Dew, had told the inquest he could not explain why it had not happened.
Mrs Dunmore's daughter, Begonia Hammond, told the hearing she was shocked when she was told about her mother's bed sores.
"I was shocked when I saw it," she said.
"I would have called the police, called help, called anybody."
Mrs Dunmore had been at the Old Vicarage since early 2008 and was moved to another home shortly before she died.
A narrative verdict was recorded following the inquest, noting that Mrs Dunmore had died from a combination of pneumonia and Parkinson's disease.