Guided busway's 'major defects all fixed', says council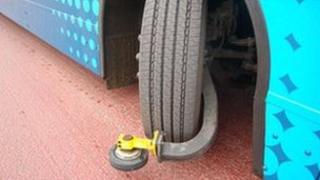 The final defect which delayed the opening of Cambridgeshire's guided busway has been fixed, councillors say.
The level of the maintenance track adjacent to the busway has been raised to reduce the risk of flooding.
Cambridgeshire County Council said its original contractor had left the route from St Ives to Cambridge with a number of "major defects".
Buses began using the route in August while another company was brought in to complete work on the maintenance track.
A smooth surface has also been added to the track making it suitable for cyclists, pedestrians and horse riders, as well as the vehicles which maintain the guided buses and the 13.3 miles (21.5km) of guided concrete track.
The maintenance track will now become part of the UK's national network of cycle routes.
The defects which plagued the busway included inadequate gradient in a park and ride site prompting fears of flooding and concerns about gaps between the concrete beams allowing them to expand or contract depending on the weather.