Littleport care home woman's bedsores 'among worst seen'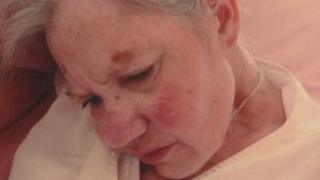 A nurse has told an inquest that severe bedsores on an elderly woman at a care home in Cambridgeshire were some of the worst she had seen.
Ana Dunmore, 74, who had dementia, developed the bedsores while at the Old Vicarage in Littleport in 2009.
She had sores on her ankles and heels, and one on her back was 8cm by 6cm, the inquest heard.
Annette Porter said she was "horrified" and could count on one hand how many similar cases she had seen in 29 years.
The hearing in Huntingdon was told the bedsores were preventable but had become so large that they were "grade four", the most severe.
On Monday, the inquest heard staff were advised by district nurses in June 2009 to turn Ms Dumore at least every two hours, but later that month she was not turned for nine days.
A care assistant told the inquest on Tuesday that a district nurse she could not name had told her turning was not necessary.
Maximum pain
All four district nurses giving evidence said they had said no such thing.
A request to transfer Ms Dunmore to another home was flagged up as urgent but it took Norfolk County Council two weeks to arrange transport and get permission.
The inquest heard this was a normal time scale.
When asked what level of pain Ms Dunmore was in, Ms Porter said 10, meaning the maximum.
The bedsores did not cause Ms Dunmore's death in July 2009 but were a contributory factor, the hearing was told.
The inquest continues.