Peterborough Cathedral fire 'heavily disguised blessing'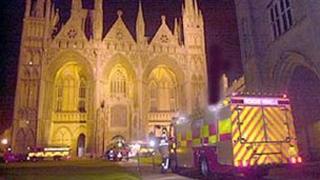 Peterborough Cathedral's fire 10 years ago was a "heavily disguised" blessing, according to its dean.
The arson attack on 22 November 2001 resulted in extensive smoke damage and all the stonework and every window had to be cleaned.
The fire service arrived just in time to prevent the ceiling catching fire.
Dean the Very Reverend Charles Taylor said: "As a result of the fire and the clean-up, the cathedral is now absolutely pristine and light inside."
The clean-up cost £1.25m, much of which came from the cathedral's supporters.
Many people queued up outside the building the day after the fire to offer financial support.
Dean Taylor said: "The blessing may have been heavily disguised at the time, but the cathedral not only survived but came out of it all the better, in a way."
'Spontaneous combustion'
The fire was lit under a stack of plastic chairs, but the arsonist was never caught.
Verger Nigel Long spotted the flames through a window at 18:40 GMT and called the fire service.
Dean Taylor said: "It was within a few minutes of spontaneous combustion that would have taken out the nave ceiling, which is the oldest painted wooden ceiling in Europe, and that would have been an absolute disaster."
The cathedral plans to mark the anniversary without fuss.
Dean Taylor said: "In our regular round of worship we will be giving thanks that it wasn't worse, and for the way the whole community came together to put it right."