Plan for reedbed 200 times size of Trafalgar Square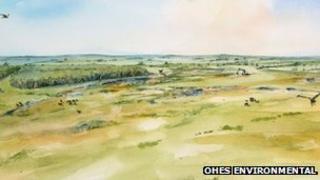 A reedbed 200 times the size of Trafalgar Square will be created in Cambridgeshire, thanks to a £250,000 grant.
Waste Recycling Environmental Ltd awarded the funding to The Wildlife Trust, as part of the Great Fen Project linking nature reserves in the county.
Work on Rymes Reedbed, on former arable land between Huntingdon and Peterborough, will begin in 2012.
The trust says the reedbed will attract new wildlife species to the area.
Lorna Parker, Great Fen restoration manager, said work on the 125-hectare (310-acre) reedbed would take two years to complete, but up to 10 years to "reach maturity".
'Protecting homes'
"Work will be carried out with great care, allowing existing wildlife to adjust and move gradually to their new habitat," she said.
"We're also hoping to see some exciting arrivals such as bitterns, common cranes and otters, as well as some ancient fenland plants that will be able to re-colonise the new wetland."
Project manager Kate Carver added: "Over time, Rymes Reedbed will also help protect local homes, businesses and farmland from flood risk as it will be able to take in winter floodwater."
The Great Fen Project will eventually see an area between Peterborough and Huntingdon restored to rivers, streams, wet grassland, woodland, raised bog, reedbeds and fens.
The project is a partnership between the Environment Agency, Huntingdonshire District Council, Middle Level Commissioners, Natural England and the Wildlife Trust.