Trader 'would pay' to move Cambridge street drinkers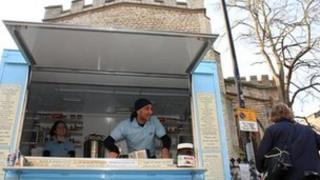 A stall-holder has said Cambridge street drinkers lose him so much trade he would give his "own time and money" to help solve the problem.
John Fenton, who sells crepes in Sidney Street, estimates he would have had about 15% more trade were it not for city drunks putting off his customers.
He has now provided the Liberal Democrat-led city council with a diary of "street-life incidents" in the area.
The council confirmed it would convene a meeting to address his concerns.
Despite a member of his staff being "assaulted during a very aggressive situation", Mr Fenton said he "generally gets on well with the street drinkers".
Vomit and urine
"People drink here all day long, and then crash out," he said.
"Watching that breaks my heart but it can't carry on in the centre of Cambridge."
He also said vomit and urine on nearby benches left his customers nowhere to eat their food.
Mr Fenton hopes to work with the council's safer communities department "to get something done quickly".
"If nothing's done, these poor people are not going to be helped.
"If the wrong thing is done, then at least we would have tried, and we can move on and try something else."
Councillor Tim Bick, responsible for community development and health, said the council was "already doing a very large amount towards combating the problem".
It has funded a police officer to deal with homelessness and street drinking and a community nurse, and provides training for people on detox programmes.
Mr Bick said a detailed report of the council's current measures and proposals for tackling street drinking was planned for next year.
However, he admitted it was a complex challenge.
"If anyone on the council knew the solution to this problem... then we could have done it a long time ago," he said.