'Hog' snowplough for Cambridgeshire guided busway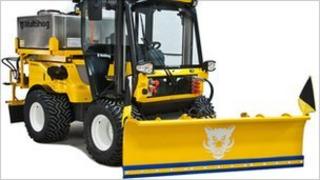 A £75,000 snowplough will keep a guided busway between Huntingdon, Cambridge and Addenbrooke's Hospital operating in icy conditions, councillors say.
Cambridgeshire County Council said the "Multihog" plough would keep the narrow maintenance track clear for emergency access in the event of breakdowns.
The council has already invested in a "guided gritter" for use on the busway.
A spokesman said the new vehicle would be used in other hard-to-reach areas replacing currently-leased equipment.
Conservative-led Cambridgeshire County Council has been criticised over the cost of developing and building the guided busway, which opened in August, two years later than planned.
However, it said that purchasing the £75,000 vehicle would help to save the county money as it would no longer need to lease specialist equipment for some pedestrian and cycle routes.
It added that the "Multihog" was suitable for other work including highways maintenance throughout the year.
"It is certainly not going to be sitting in a garage for half the year," the spokesman said.