Cambridgeshire Police nominated for Plain English Campaign award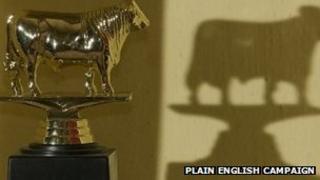 Police in Cambridgeshire have been reminded to "use good English" after an error-filled email was sent to Cambridge residents.
Subscribers to the email alert who were said to be "leaving in the Castle Ward" received the warning about break-ins.
The Plain English Campaign said the message contained "so many errors" it had been nominated for its Golden Bull "gobbledygook" award.
A police spokesperson said: "Standards were clearly not met."
The threat of pre-Christmas thefts was highlighted as part of Cambridgeshire Police's e-cops public information service.
'Ploddledygook'
The email warned residents that "there are 'Others' watching who is not locking thir car car" and urged them to "rember" to inform neighbours if they planned to go away.
The email was brought to the attention of the Plain English Campaign, which has worked to reduce "ploddledygook" within police forces across the UK.
A spokesperson said: "We can all have a giggle about this, but there is a serious message.
"There is no care taken in this message. Perhaps the writer doesn't have sufficient ability, but it has clearly not been proof-read.
"People have the right to information they can understand and you would expect something more from a police force."
The spokesperson confirmed that the message was a "contender" for the organisation's Golden Bull award, which recognises the year's "best examples of gobbledygook".
Tim Froggett, a senior lecturer in marketing at Anglia Ruskin University in Cambridge, said: "An organisation's communications should be credible, trustworthy, reliable and responsible.
"External communications and behaviours that do not reinforce these values can create negative and enduring perceptions that can be hard to change."
A spokesperson for Cambridgeshire Police said: "All e-cops messages should be checked by supervisors prior to sending to ensure that they meet expected standards of spelling and grammar.
"The officers involved will now be reminded of the importance of using good English in all communications."