Poppy seller honoured by villagers in Cambridgeshire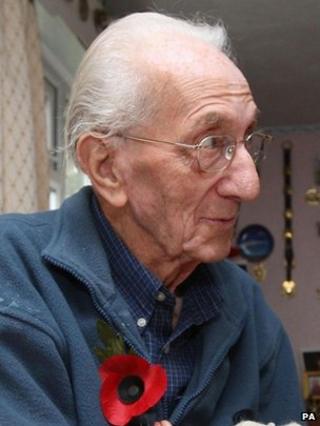 A war veteran who sold Remembrance Day poppies for more than 60 years up to his death was honoured by residents in his home village in Cambridgeshire.
Ex-RAF mechanic Ray Hardman and his wife Eve, of Shepreth, started selling poppies in 1949.
Mr Hardman, who died on 5 November aged 89, also laid a poppy wreath at the Shepreth war memorial on Remembrance Day on behalf of the village.
Mrs Hardman, also in her 80s, heard locals pay tribute to her late husband.
Mr Hardman, a retired miller, served in India as an RAF fighter plane fitter during World War ll. His life story is featured in a Shepreth history book called Distant Voices published to celebrate the millennium.
He is due to be buried, following a service at the village church, on Tuesday.
Villagers also paid tribute to Col Peter Storie-Pugh, who died aged 91 in October, and lived in Shepreth after the war before moving to France.
Mr Storie-Pugh, a vet and a former president of the Royal College of Veterinary Surgeons, was held in Colditz after being captured in France in 1940.
He became famous for being involved in more than 20 escape attempts from the notorious Nazi military prison.