Historic names may be returned to Queensgate car parks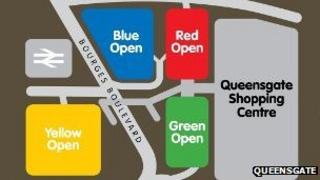 Car parks at a Peterborough shopping centre could have their original names restored following "customer feedback".
The Queensgate car parks used to be named after local historic figures, but were renamed Green, Blue, Red and Yellow to "avoid confusion".
Now centre managers say they will consider adding the names Cavell, Perkins, Royce and Clare to the signs.
Centre director Sam Eastwood said shoppers valued the "sense of heritage" attached to the original names.
The car parks were rebranded and colour-coded as part of a £10m refurbishment of the shopping centre.
Mr Eastwood said initial customer feedback suggested the system would be more user-friendly.
However, after further consultation he said it had become clear that there was a "strong sense of community pride" associated with the names.
"Preserving the history of Peterborough is always a prime focus, and coupled with the importance of our shoppers' views, we will be considering new signage designs to incorporate both the colours and original car park names," he said.
Peter Lee, chairman of the Peterborough Civic Society, welcomed the news.
He said: "These are important people from the city and many are completely unaware of the fact that they are from Peterborough."
When the car parks were originally constructed in the 1980s their names celebrated the city's links with World War I nurse Edith Cavell, poet John Clare, car manufacturer Frederick Royce, and Frank Perkins, whose engineering firm founded in 1932 is still one of Peterborough's leading companies.