March residents fear 'rat infestation' in car park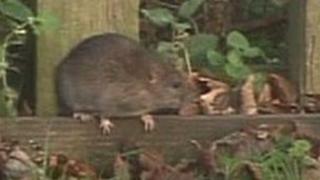 A rat "infestation" is worrying car park users in March, Cambridgeshire.
Residents describe the rats being as "big as cats" and have reported the rodents to Fenland District Council, which owns the City Road car park.
Local pest controller Tom Bannister said he had "never seen anything like it" in his 30-year career.
The council confirmed an increase in the number of rat sightings and said it was working with pest control contractors to address the problem.
It has already erected a sign which reads: "Please do not feed the ducks as this is encouraging rats in the area."
However, Mr Bannister said that takeaways dropped by people could be one reason for the large number of rats.
'Breeding machine'
"The trigger for both rats and mice is food. If you deprive them of food, they won't breed.
"We usually say that if you can see one in the daytime, you can multiply that by 10, and that's how many are really there.
"They are nature's breeding machine."
Maree Hamilton, who works in the town, said a large rat had run in front of her car when she was parking.
"I sat in there for a couple of minutes because I was scared to get out. And it's not the first time I've seen them here. They're huge."
The council said it had "increased treatment levels" in the area after people had reported the rodents.
"We are also working with, and supporting, nearby businesses and landowners ensuring they have a regular waste collection service, and also undertake treatment and pest prevention measures on their land," a spokesman said.