Ely parking charge consultation 'disappoints' traders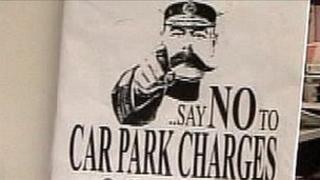 Proposals to introduce charges at Ely's nine council-run car parks are to be put out to public consultation by East Cambridgeshire District Council.
About 12,000 people signed a petition against changes to free parking.
A £20 annual permit and a £1 per stay pay-and-display charge could generate about £200,000 a year for the council, its leader said.
The council said the scheme took campaigners' concerns into account and described it as "not expensive".
Peter Moakes, who leads the Conservative-controlled district council, said charging for parking was necessary to avoid a budget shortfall and would enable the council "to pay for, and deliver, services to the whole of the district".
He said the proposals were "dramatically cheaper than the alternatives", which included conventional pay-and-display schemes.
'Not competitive'
Andrew Olley from Ely Traders' Association, which campaigned against the charges, said he was "very disappointed".
"Actually, I think the scheme is quite expensive," he said.
"Some of the car parks are short stay, and the proposed charges are not competitive compared to those in some other market towns in the county.
"Ely is already encircled by supermarkets with hundreds of free parking spaces, and this is the wrong time to try and introduce charges for the city car parks."
He added: "I struggle to think of anything more they could do to disadvantage the high street at this time. I really do fear that traditional town centres could be lost."
Mr Moakes said: "The research we've done, based on another council that used this scheme, suggests that a lot more people than we originally thought would probably take up the permit.
"At £20 a year that works out at only 8p per day and we don't feel that's expensive."